This time last year we were in the midst of a major kitchen renovation. Half our downstairs and our most usable space was gutted. The project went over budget and last well past my end all completion date. Looking back I am not sure how we survived as well as we did. I swore it would be a nice long time before we tackled another major project. Apparently my memory starts to fade after a year because around May we started discussing our next major project. The plan was to due our big full bath upstairs. This is the one for our guest and the place where we bathe Miss O. The are many reason for why we chose this to be our next project but that is a different post. The major difference here is that we were going to hire this project out. However the estimates came in much higher than expected and way above our saved project funds. We decided we might do a few more minor updates around the house but for the most part we were going keep saving and wait to do the bathroom a bit later.
Well as luck would have it, or not, our downstairs toilet started leaking. Even though we could have just fixed the toilet, there was a high chance that the leak had damaged the sub-floor under the tile. This along with the fact that the bathroom was pretty dated and I absolutely hated the sink we decided to redo the whole thing.
As we are about to embark on this new renovation project I am horrified as to what I agreed too. We have a plumber and there is no electrical work needed. In the whole scheme of renovation work, what we need to do is fairly simple but there will be a lot of firsts and we have an active toddler to take care of too. The only consolation is that if we completely mess up and it takes much longer to put back together we are no worse off than we are now as the toilet does not function.
So here we go again...I tried to plan out as best we could the design well ahead of our construction work. We have gathered all the main materials and components but despite my best efforts we are going on trip 3 to Home Depot and it probably won't be our last.
Some inspiration pictures....
*IKEA Hemmes vanity
Chris Love Julia half bath renovation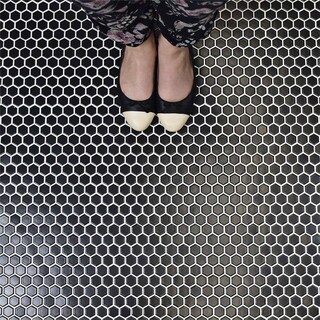 Black penny tile
Wish us luck!