Whoops! I think I missed a day posting yesterday. I flew to Dallas Texas. It was two long flights. Not enough water. And too hot. I hope I don't melt away. Since yesterday was so hectic and I didn't do a good job taking photos of my eats, here are some snaps from a boring but good Monday.
Did I say boring? I must have forgot about my morning. I was running around like a fool getting ready. I spilled my smoothie moving too fast. Got in not only on the table but all day my leg. Good thing I had a dress on and didn't have to change clothes too.
By the time lunch had rolled around things were not so crazy. I had a bagel pizza was some of the best basil pesto and parmesan cheese. Makes a huge difference. I ate it so fast I burned the top of my mouth.
Dinner was at a place similar to Chipolte but not Chipolte. I had a beef salad. I was so hungry I also ordered some tortilla soup. It came in a huge bowl too with tons of fillings. I couldn't eat it all.
No snacks today. I was so busy playing check up I forgot to take my normal fruit break.
Do you ever get so busy you forget to eat?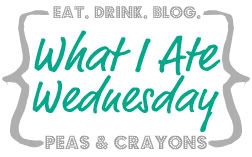 New to the party? Click here for more info on our Wednesday shenanigans!